Friday, May 10, 2013
Is John Cook planning to use systematically biased "correct" survey answers to make unbiased skeptics look biased?
Crossposted at WUWT (with some improvements here to the intro and postscript)
After finalizing a long post on John Cook's crowd-sourced consensus-rating survey (to be titled "I take Cook's survey so you don't have to"), I submitted my completed survey to Cook's website and received an automated response that included a key new bit of information, suggesting what likely shenanigan Cook has planned.
I am not going to rewrite the post because it describes why I gave the ratings I did to each abstract in the random survey that Cook's website compiled for me. The likely shenanigan has to do with how the rating rules are applied so I want it to be clear that what I wrote on that subject was innocent of any awareness of how Cook might be biasing the survey. I am just adding this brief introduction.
The new information (new to me) is that Cook seems to be claiming to have in his back pocket a

correct

answer to what each of the ratings should be. From the automated response:
Of the 10 papers that you rated, your average rating was 3.1 (to put that number into context, 1 represents endorsement of AGW, 7 represents rejection of AGW and 4 represents no position). The average rating of the 10 papers by the authors of the papers was 2.6.
It seems impossible that Cook could actually have gotten large numbers of authors to apply his rating scale to their papers. Maybe this is why he drastically reduced the number of included papers from the 12,000 mentioned in the survey to only those with abstracts shorter than 1000 characters (as discovered by Lucia at

The Blackboard

). Maybe the full reduction is to papers that not only have short abstracts but were also self-rated by authors. If so there is a clear selection bias and the abstracts in Cook's sample are not representative of the literature [commenters say that this limitation to self-rated abstracts has also been verified at The Blackboard].
Supposing that Cook really does have author-ratings for all the papers used in the survey, there is a major slip between the cup and the lip. The authors are described as rating

the papers

, while surveyors are asked to rate only

the abstracts

. This is critical because according to Cook's rating rules the ratings are supposed to be based on what is or is not specifically mentioned. Obviously full papers discuss a lot more things than abstracts, especially unusually short abstracts. Thus if everyone is applying the rules correctly surveyors ratings should be systematically higher (assessing less conformity with consensus assumptions) than authors' ratings.
This stood out to me because I had just spent several hours describing how I had to rate abstract after abstract "neutral," even though it clearly proceeded from "consensus" presumptions, just because its abstract had not directly mentioned those assumptions. The full papers might well have, making the author ratings and the surveyor ratings apples and oranges.
Suppose (as is likely) that survey participants who are referred by skeptic websites rate the abstracts accurately according to the instructions while those who are referred by credulous websites misapply the instructions so as to exaggerate the degree of consensus. This misapplication of the rules will bring the ratings of the consensoids closer to the ratings of the authors than the accurate ratings from the skeptics will be, making the consensoid surveyors look less biased than the skeptic surveyors when they are in fact more biased. Mission accomplished.
My original post is after the jump. It's point is rather different: that the revelation from the survey is how neatly the various papers fall into simple categories of wasted effort on the "consensus" plantation. In contrast, Cook's attempt to gauge the degree of consensus turns out to be not very effective, which is another reason (besides its coming from John Cook) why people shouldn't feel much need take it.
Read more »
Tuesday, February 12, 2013
UV shift in the leaked IPCC report: more inversion of the scientific method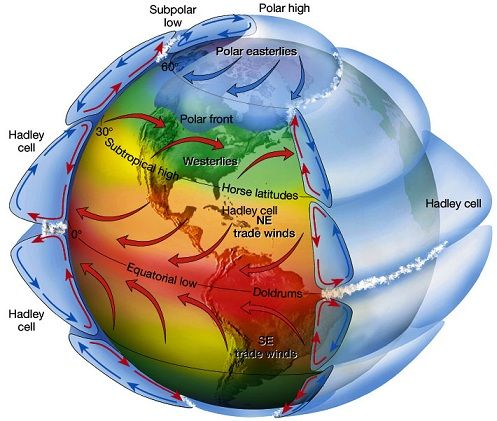 Crossposted at WUWT
A recent article by 
Fox News
reporter Maxim Lott
highlights
a sentence from leaked draft of AR5 that seems to acknowledge a larger solar influence on climate than previously estimated:
"[Results] do suggest the possibility of a much larger impact of solar variations on the stratosphere than previously thought, and some studies have suggested that this may lead to significant regional impacts on climate," reads a draft copy of a major, upcoming report from the U.N.'s Intergovernmental Panel on Climate Change (IPCC).
The bracketed "[results]" are the post-AR4 findings of "much greater than expected reduction at UV wavelengths in the recent declining solar cycle phase." (AR5 SOD page
11-57
.) Lott describes the vaguely referenced stratospheric and climate impacts of this larger-than-expected UV-shift as an admission by the IPCC that "[h]eat from the sun may play a larger role than previously thought." The Fox headline writers go even further, describing the IPCC as "admitting solar activity may play significant role in global warming."
This reporting is a bit messy. No, the UV-shift is not a shift in heat from the sun. Total solar irradiance (TSI) changes very little as solar activity ramps up and down. The UV shift just alters where in the electromagnetic spectrum the heat comes through. Yes this UV shift could affect the climate system in ways that have a substantial impact on global temperature but no, the IPCC has not admitted it. They actually belittle the possibility. That's what the reference to "regional impacts on climate" is about. They mean regional as opposed to global. They are
denying
any significant impact on global temperature.
Still, the gist of the story—that the draft report admits stronger solar effects on global temperature than previously estimated—is correct, only this admission comes not in chapter 11 but in chapter 7, where it is followed by a crude trick of evasion. The UV-shift discussion in chapter 11 repeats this same trick of evasion. To catch this trick in chapter 11 you have to first catch it in chapter 7.
Read more »
Wednesday, January 16, 2013
Commitment studies belie "consensus" claim that a persistent high level of temperature forcing cannot cause continued warming
They say it all the time: even if there
were
some substantial mechanism of enhanced solar forcing it couldn't be responsible for late 20th century warming because solar activity was roughly constant from 1950 to 2000. I have rounded up statements to this effect from
eighteen
top "consensus" climatologists, like Raimund Muscheler (
2012
):
Solar activity & cosmic rays were relatively constant (high solar activity, strong shielding and low cosmic rays) in the second part of the 20th century and, therefore, it is unlikely that solar activity (whatever process) was involved in causing the warming since 1970.
Is he assuming that the oceans equilibrate rapidly to any change in forcing so that continued high forcing is necessary just to maintain the new equilibrium, resulting in only a brief shot of warming? He doesn't say.
None of them say
. They just make this highly counterintuitive claim that persistent forcing cannot cause continued warming, as if they actually believe that it is the change in the forcing rather than the level of the forcing that does the warming.
The tune changes however, as soon as the subject is forcing from greenhouse gases. A staple of the crusade against CO2 is the "commitment study," where climatologists use their general circulation computer models (GCMs) to estimate the amount of future warming that would result if atmospheric CO2 were to stop increasing and just stay at current levels. That means no change in forcing going forward, just continued forcing at the present "high" level. The estimates of the continued warming this would cause over the 21st century are quite large, roughly equivalent to 20th century warming, or in the latest estimations, substantially higher.
AR4 estimated the "constant composition" commitment at 0.1°C/decade for the early 21st century, 0.6 °C for the whole century
From AR4 (
§10.7.1, PP4
):
The multi-model average warming for all radiative forcing agents held constant at year 2000 (reported earlier for several of the models by Meehl et al., 2005c), is about 0.6°C for the period 2090 to 2099 relative to the 1980 to 1999 reference period. This is roughly the magnitude of warming simulated in the 20th century. Applying the same uncertainty assessment as for the SRES scenarios in Fig. 10.29 (–40 to +60%), the likely uncertainty range is 0.3°C to 0.9°C. Hansen et al. (2005a) calculate the current energy imbalance of the Earth to be 0.85 W m–2, implying that the unrealised global warming is about 0.6°C without any further increase in radiative forcing. The committed warming trend values show a rate of warming averaged over the first two decades of the 21st century of about 0.1°C per decade, due mainly to the slow response of the oceans. About twice as much warming (0.2°C per decade) would be expected if emissions are within the range of the SRES scenarios.
Should Gerald Meehl's estimate of 21st century commitment be reduced in compensation for the fact that he uses a 1980 - 1999 temperature average as a baseline? It seems that a decade's worth of his 21st century warming estimate is actually taking place between 1990 (the center of his baseline period) and 2000. If so, the compensation would be at most about 0.1°C.
That is the peak rate of warming the models produce for year-2000 Green House Gas levels. 1980-1999 GHG levels were lower, hence modeled warming would have been less than 0.1°C between the 1990 midpoint of the period and 2000 so less than 0.1°C of Meehl's estimate of 21st century warming would actually be taking place during the 20th century.
But maybe no adjustment is needed. Meehl et al. certainly do not hesitate in presenting their figures as estimates of "further warming" vis a vis 2000. From the Meehl 2005
abstract
:
Two global coupled climate models show that even if the concentrations of greenhouse gases in the atmosphere had been stabilized in the year 2000, we are already committed to further global warming of about another half degree and an additional 320% sea level rise caused by thermal expansion by the end of the 21st century. ... At any given point in time, even if concentrations are stabilized, there is a commitment to future climate changes that will be greater than those we have already observed.
As for other commitment findings, Tom Wigley (2005) estimated that the "constant composition" warming commitment "
could exceed 1°C
," and the following graph is from Matthews and Weaver 2010, a pay-walled post-AR4 commitment study that was
reviewed
by Gavin Schmidt, who lists their commitment estimate from constant year-2000 GHG forcing as "an additional 0.3 to 0.8ºC warming over the 21st Century":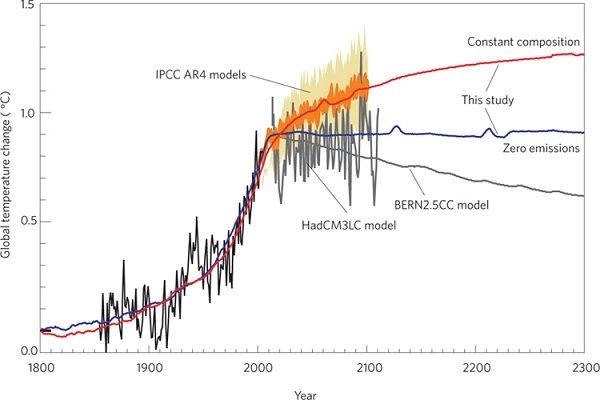 AR5 commitment estimates are higher still, presumably because they project 2010 GHG levels. From the Second Order Draft (
p. 12-60
):
"Constant emission commitment" is the warming that would result from keeping anthropogenic emissions constant and is estimated for example at about 1–2.5°C by 2100 assuming constant (year 2010) emissions in the future, based on the MAGICC model calibrated to CMIP3 and C4MIP (Meinshausen et al., 2011a; Meinshausen et al., 2011b) (see FAQ 12.3).
At the low end, that is more warming than was seen during the 20th century, at the high end it is 3 to 4 times 20th century warming. Guess that nixes the idea of rapid ocean equilibration.
Talking out of both sides of their mouths
These commitment findings should be taken with a grain of salt. Would current levels of GHG forcing, which have coexisted with
no
statistically significant warming for 15 years now, really cause the present century to warm twice as fast as last? Such wild prognostications show how extravagantly the "consensus" scientists are willing to exaggerate in favor of their anti-CO2 narrative, but they can't have it both ways. If they expect the persistence of a mildly elevated GHG forcing to cause many decades of substantial warming then it is pure dishonesty to turn around and declare that persistently elevated solar forcing, regardless of its level, could not cause more than a decade or two of warming.
Some of these scientists have done very important work. Ilya Usoskin, for instance, has been a pioneer in developing cosmogenic nucleotide proxies for solar activity. That makes it unsettling to have to call him out, but HEY USOSKIN, it's about time you renounced the BUT in Usoskin et al.
2005
:
The long term trends in solar data and in northern hemisphere temperatures have a correlation coefficient of about 0.7 - .8 at a 94% - 98% confidence level.
BUT:
During these last 30 years the total solar irradiance, solar UV irradiance and cosmic ray flux has not shown any significant secular trend, so that at least this most warming episode must have another source.
Usoskin
himself
classifies 1920 to 2000 as a "grand maximum" of solar activity, thus his claim here is that even if a historically powerful driver of climate remains at a high level for an extended period of time it will still not cause continued warming. To cause continued warming it would have to
keep
going up (to higher than high levels).
Does he actually believe that, or did it just seem like a small price to pay to stay in the good graces of the funding institutions that Al Gore, Maurice Strong, James Hansen, Stephen Schneider et al. established in the 1990s? In fact it is a huge price to pay. It is a complete debasement of scientific principle, handing the anti-CO2 crusaders an utterly fraudulent grounds for dismissing the alternative solar-warming hypothesis, and pretty much
all
of the leading solar scientists have embraced the same trope.
Whether this is bias or cowardice it needs to stop, and for anyone who wants to be silenced no longer, the commitment studies offer an ironclad opportunity. After all, the GCM guys have their own field of expertise. If the computer modelers insist that a steady high level of forcing
will
cause at least several decades of substantial continued warming then who are the solar scientists to contradict them? All they have to do is stop making highly speculative claims about ocean equilibration that lie completely outside of their field and are unsupported by any reason or evidence.
Usoskin's solar estimates are "grand maximum" even if post-1945 Waldmeier-era sunspot counts are reduced by 20% as Leif Svalgaard urges
Usoskin uses a "high activity threshold" of
50
so even if his sunspot counts ("
75 ± 3 since 1950
") are reduced by 20% they are still at "grand maximum" levels from the 1940s to the 1990s by Usoskin's criteria.
Hat tip to Lucia Liljegren
I asked
Lucia
if she knew of any GCM tests of the solar warming hypothesis. Had the "consensus" ever GCM-tested their oft-repeated claim that even if there
were
a substantial mechanism of enhanced solar forcing it could not have caused late 20th century warming? Not that she knew of, but she suggested that the results of a persistent elevated level of solar forcing should be roughly the same as for a persistent elevated level of GHG forcing, as examined in the commitment studies. In both cases the amount of warming would be the same. Both would be calibrated to account for observed 20th century warming, so the resulting ocean equilibration process should be similar.
Thanks Lucia. The "consensus" has indeed already in-effect GCM-tested the competing hypothesis, with just a slight change in time frame. Fifty years of high solar activity beginning in 1950 are analogous to fifty years of 2010-level CO2 forcing beginning in 2010, and the predicted warming from the CO2 commitment testing directly contradicts the stated rationale for dismissing a solar explanation for late 20th century warming.
(Crossposted at
WUWT
.)
Friday, December 28, 2012
Dana Nuccitelli's holiday trick for sobering up quick: put a little less rum in your egg nog

When he argues that a reduction in forcing will cause cooling Dana Nuccitelli is not actually talking about drinking. He is talking about the solar forcing of global temperature, but the drinking analogy is a handy way to understand where his argument goes off the rails.
Mr. Nuccitelli, who blogs for the
consensus-approved
Skeptical Science
website, was
writing
about Henrik Svensmark's GCR-cloud theory of indirect solar forcing, where Galactic Cosmic Rays are hypothesized to seed cloud formation. If Svensmark is right then a strong solar wind, by deflecting some GCR from reaching the earth, in-effect blows some of the clouds away, letting more sunlight through to warm the planet's surface.
That can't possibly explain late 20th century warming says Nuccitelli, because GCR deflection has been
estimated
(see the Krivova-Solanki graph above) to have peaked by 1980. The
raw
data
suggests the actual GCR minimum was ten years later, but set that aside. Nuccitelli thinks it is the
change
in the level of forcing, not the level of forcing, that determines whether the climate system warms or cools:
So, if GCRs really do amplify the solar influence on global temperatures, since 1980 they are amplifying a cooling effect.
Cooling begins when a forcing passes its peak? Fail. Daily temperatures don't start falling at noon. They continue rising until mid-afternoon. The hottest time of the year isn't the first day of summer (the summer solstice, after which the days start getting shorter), the hottest time is mid-summer. To think cooling should start when forcing passes its peak is like thinking you can sober up by drinking just a little more slowly.
Read more »
Friday, December 21, 2012
Haigh Anxiety: a psycho-comedy of errors
(Crossposted at
WUWT
)
In an
interview
with
NewScientist
magazine, Imperial College professor of atmospheric physics
Joanna Haigh
scoffs at the idea that late 20th century warming could have been caused by the sun:
Haigh points out that the sun actually began dimming slightly in the mid-1980s, if we take an average over its 11-year cycle, so fewer GCRs should have been deflected from Earth and more Earth-cooling clouds should have formed. "If there were some way cosmic rays could be causing global climate change, it should have started getting colder after 1985."
What she means is that the 20th century's persistent high level of solar activity
peaked
in 1985. That is the
estimate
developed by Mike Lockwood and Claus Fröhlich. The actual peak was later (solar cycle 22, which ended in 1996, was stronger than cycle 21 by almost every measure) but set that aside. Who could possibly think that cooling should commence when forcings are at their peak, just because the very highest peak has been passed?
Read more »
Wednesday, December 12, 2012
Exxon called hateful for producing value
How do we know that Solyndra and First Solar and Fisker Automotive and
thirty other
failed Obama-subsidized green energy ventures are (or were) highly moral enterprises? Because they are all going bankrupt. They all produce less value for consumers than they cost in resources. That's good because producing net value—making money—is the criterion of immorality.
Such, at least, is the message from
ExxonHatesYourChildren.com
, where an actor pretending to speak for Exxon smugly plays the Grinch:
Here at Exxon we hate your children. We all know the climate crisis will rip their world apart but we don't care, because it's making us rich.
Wait a minute. If they are getting rich, doesn't that mean they have to be creating quite a bit of value? Doesn't it mean that people need the gasoline that Exxon is producing and find it's price inexpensive compared to the value they get out of it? Indeed, if gasoline producers stopped producing, wouldn't everyone, including the children, die practically on the spot?
Condemning energy suppliers is just as perverse as condemning food suppliers. Unfortunately we have to take these people seriously because the country just re-elected a president who thinks much the same way, so witness the dripping hatred for mankind, made palatable (to some) by a sugar coating of anti-capitalism and class warfare:
Read more »
Thursday, November 22, 2012
Art show for children: "In this vision we have poisoned our environment with toxic waste"
A venerable Aussie art gallery has gone over to the eco-propaganda dark side. An exhibition for children at
the Ballarat
depicts mankind's impending and well-deserved doom. In the illustration above, post-apocalyptic kangaroo, elk and wolf have "come for what's ours," narrated with the caption:
"In this vision we have poisoned our environment with toxic waste and used up all the natural resources until the earth could no longer support us… In this painting, people are just a memory. The earth has survived and with it some of the plants and animals which lived in harmony with nature, only taking what they needed and adapting…"
The poor wolf has apparently had to adapt to eating eucalyptus. Even wild animals are not eco-enough for the eco-religionists.
Check out how hot the outback was in this 1890 painting by David Davies. What better way to illustrate that "Australia is getting hotter and climate change has arrived"?

This -- cough cough -- turkey might be a little -- urk -- overcooked. Hope yours is better!
(Hat tip
Andrew Bolt
)